8 Best Web Hosting Providers
Bluehost – Best overall hosting provider
iPage – Best for cheap plans
AccuWeb – Excellent dedicated hosting plans
---
How Web Hosting Works
When you want to start a business in the real world, you need a physical location to set up, store, and sell your products. The same rules apply in the digital world when setting up a website.
When you set up an online business, you have a series of files, images, and HTML code that make up your website. These files take up space and need a place to live. Without an online home, your files would just sit on your computer and no one would ever see them. A hosting provider will provide a place on a web server to store all of your files and are responsible for delivering the files of your website as soon as a browser makes a request by typing in your domain name.
When you pay for hosting services, you are simply renting storage space on the internet — just like you would rent a physical store for your business.
What are the different types of hosting?
Before we take a closer look at each provider, here's an overview of the main types of web hosting that you'll encounter:
Shared Hosting
Shared hosting is the most common type of web hosting and is suitable for most online business owners. With shared hosting, several customers share storage space on one powerful server. There are several advantages to shared hosting including:
Affordability — It's much cheaper to share the space on a server than to rent the entire machine.
Ease of use — Your server is preconfigured, well-organized, easy to use, and your hosting company does all the maintenance and security updates for you.
VPS Hosting
Virtual Private Server (VPS) hosting includes all the features of a dedicated server, but at the price point of a shared server. Here are some of the top reasons VPS hosting might be a great fit:
Functionality — VPS hosting is built on a cPanel and supports easy navigation with several intuitive tools.
One-click features — You have access to one-click installs of WordPress, Magento, and Drupal.
Easy site navigation — The clean interface makes site management a cinch.
Dedicated Hosting
Rather than sharing space, you get a server all to yourself if you choose a dedicated hosting package. Advantages to dedicated hosting include:
Customization — You can customize the software and hardware to meet your individual needs
Unlimited Resources — Since you don't share the server with anyone, all the storage space is yours.
Full control — You can configure the setup however you'd like.
Cloud Hosting
Cloud hosting is often considered the most reliable of all of the services. Rather than relying on disk space of a single server, it pulls its power from several resources, making sure you never have any downtime. Other benefits include:
Scalability — You can add to your cloud space at any time.
Unmetered bandwidth — You don't have to worry about your site going down due to a server failure.
This article will lay out the 7 best hosting providers on the market.
---
The size and type of website you own will dictate the type of hosting plan you need. Your budget, the features you require, and how you built your site will also play a part in your decision. But ultimately, it's best to choose one priority that you value most, and base your decision on that feature.
For example, if customer service and value for money are both important to you, but you're most concerned about having great uptime, then HostGator is your best bet. But if great value for money is your non-negotiable top priority, then Bluehost will give you the most bang for your buck.
---
Web Hosting Comparison
1°Bluehost
Best overall hosting provider
Pricing plans from: $2.75 a month
---
Utah-based Bluehost came onto the scene in 2003. Since then, it's become one of the leading providers of web hosting services, and is currently owned by The Endurance International Group, which also owns competitor HostGator. Bluehost currently powers more than two million websites worldwide, primarily out of its data center in Utah.
| Bluehost Pros | Bluehost Cons |
| --- | --- |
| 99.98% uptime | Fairly expensive top tier VPS hosting plans |
| Free domain | One dedicated IP address |
Bluehost is better known for its WordPress hosting, but it still has everything you need from a VPS service. And if you're yet to purchase a domain name, Bluehost is the only that gives you one free of charge, forever.
The usual features are all on offer, and Bluehost boasts a brilliant uptime of 99.98%. Entry-level VPS hosting pricing is very reasonable too.
And if you're looking for a VPS plan to power a photography website in particular, Bluehost ranks number one in our review of the best Photographer Website Hosting Providers.
---
2° InMotion
Best for shared and VPS hosting
Pricing plans from: $6.39 a month
---
InMotion started life in 2001, and since then has grown into a company with 300 employees and three offices across the U.S.. It also has two data centers in Los Angeles and Ashburn, Virginia, which are home to "thousands and thousands" of servers.
| InMotion Pros | InMotion Cons |
| --- | --- |
| Unlimited CPU cores, domains and email accounts | Fairly expensive top tier VPS hosting plans |
| Free domain with 6-12 month plans | Other providers can better its 99.97% uptime |
The company says it has "hundreds of thousands" of customers, which is a far cry from the millions that the bigger companies have. Instead, InMotion focuses on providing as high a level of service as it can muster to compete with the bigger companies.
InMotion sets the bar high when it comes to VPS hosting. All plans come with free backups, root access, and unlimited CPU cores and email accounts.
InMotion is perfect for any up-and-coming businesses or large personal site. With help available 24/7 via phone, live chat, and a ticketing system, plus a 30 day, money-back guarantee.
---
3° A2 Hosting
Best for cloud hosting
Pricing plans from: $2.99 a month
---
A2 Hosting started under the name Inquinet in a small, two-room office in Ann Arbor, Michigan in 2001. The company is still an independently owned operation based in Ann Arbor, but has expanded to include data centers in North America, Europe, and Asia.
| A2 Hosting Pros | A2 Hosting Cons |
| --- | --- |
| Best value for money | No free domain |
| Anytime money-back guarantee | Only 99.95% uptime |
If you're either unsure or unconfident about VPS hosting, A2 Hosting can help. Its friendly, customer-centric approach makes you feel valued immediately, and staff are always on hand to help. Plus, if you're unhappy with the service, you can get a refund anytime, no questions asked.
Features-wise, you can choose between Linux or Windows server hosting, while A2 Hosting also offers free backups, root access, and unlimited email accounts. It's a little more expensive than InMotion, but you'll be getting a very reliable service that puts you first.
---
4°iPage
Best for cheap plans but at the cost of speed
Pricing plans from: $2 a month
---
As a company, iPage has been around for a long time. It was founded in 1998, though the Internet Archive's records show that by 1999 the iPage.com domain was unused and for sale.
| iPage Pros | iPage Cons |
| --- | --- |
| 1 year free domain | Poor 99.94% uptime |
| Multiple help and support resources | Only 1TB of bandwidth |
Regardless, iPage began life as a web service provider — essentially a landing page like Yahoo. In 2002, it relaunched as a web hosting provider that is currently owned by the Endurance Group, the same company behind Bluehost and HostGator. In its present form, iPage hosts more than one million websites and has two data centers.
iPage may not have the cheapest pricing, particularly brilliant features, or the biggest capacity, but it does have a little bit of everything. From RAM to root access, free backups to SSL security, you'll have access to everything you need -its customer service offers all the help you could need.
---
5°HostGator
Best for uptime
Pricing plans from: $2.75 a month
---
HostGator had humble beginnings in a dorm room at Florida Atlantic University in 2002 (which explains the "Gator," in case you were wondering). Since then, the company has opened offices around the world, and hosts over 8 million domains.
| HostGator Pros | HostGator Cons |
| --- | --- |
| 120GB of storage | Expensive pricing plans |
| 99.99% uptime | No free domain |
HostGator ate the competition for breakfast when it came to overall hosting services, and its VPS service specifically is also very strong. What lets HostGator down is its value for money – while competing reasonably well with the likes of InMotion for features, a starting cost of $89.95/month is enough to put off those on a tight budget.
That said, HostGator has a great promotional deal where you can pay just $29.95/month for the first three years, if you commit to HostGator in the long-term. It also has a brand new website builder that's perfect for creating simple sites if you're yet to make your own.
If that's not enough to convince you, HostGator also offers great customer support.
---
6°GreenGeeks
Best for green web hosting
Pricing plans from: $2.95 a month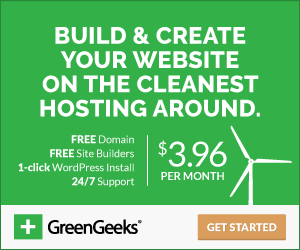 ---
GreenGeeks,witht 99.98%, it has the joint-second best server uptime of all the VPS web hosts, plus it offers a generous 10TB bandwidth on all its plans, and up to 8GB RAM on its highest plan.
| GreenGeeks Pros | GreenGeeks Cons |
| --- | --- |
| Server uptime of 99.98% | No free domain |
| Offers plenty of bandwidth and RAM | No free backups |
Where does it drop points? That's simple. GreenGeeks doesn't offer a free domain or backups unlike most other VPS hosting providers. However, GreenGeeks is still reasonably priced for the features you get.
---
7°accuweb
Stellar uptime
Pricing plans from: $3.09 a month
---
Founded in 2003, Accu Web Hosting is an experienced US provider with a huge range of web hosting products and services.
There are shared hosting, VPS and dedicated servers, for instance. WordPress hosting and application hosting. cloud hosting, reseller hosting, load balancers, backup schemes, domain registration, SSL certificates and more.
Accu Web Pros
Accu Web Cons
Data centers around the world
Bandwidth, storage and other limits on most plans
Windows and Linux options
Highly configurable
No introductory discounts
You're not restricted to Linux products. Just about everything in the range is also available in a Windows flavor, though for a small price premium.
Shared plans can be hosted in US, Europe, Singapore, South Africa, India and Australia, and VPS and dedicated plans add more options (Canada, France, Germany, Ireland, South Korea, Japan, more.)
---
8°DreamHost
Best for storage space
Pricing plans from: $2.95 a month
---
| DreamHost Pros | DreamHost Cons |
| --- | --- |
| 97-day money-back guarantee | Potentially delayed set-up |
| Cheap shared hosting | Lots of additional costs |
DreamHost currently hosts over 1.5 million websites worldwide. It's known for offering every type of web hosting under the sun, and for its generous storage space.
DreamHost isn't outright the best at anything. But unlimited bandwidth is still something to be very proud of.
DreamHost is the only provider on this list not to grant you root access, and the only one with an inflexible amount of CPU cores. DreamHost is a classic case of getting what you pay for.
---
Web hosting providers: FAQs
What's the difference between a VPS and shared hosting?
Both a VPS and shared web hosting mean sharing dedicated hardware with multiple customers. The big difference is that with a VPS, fewer accounts are making demands on the hardware resources. You also get guarantees of better performance with a VPS compared to shared hosting.
What's the difference between a VPS and a dedicated server?
A VPS is a virtual environment running on dedicated hardware, and has to share this hardware with a number of other customers. A dedicated server, meanwhile, provides sole access to the hardware. Dedicated hosting is only necessary for huge websites, as the cost is significantly more than shared hosting or virtual private servers.
What is a virtual server?
A virtual server is essentially a pretend computer running inside a physical computer. Since servers are so powerful, and the demands on them are different than a desktop PC, it works out quite well to run multiple virtual servers on a single piece of hardware.
What can you use a VPS for?
The most obvious and popular reason for a VPS is to run a single website, or multiple websites. However, you can use them for pretty much anything that requires access to the internet – such as a web application like Nextcloud to run your own Dropbox alternative – or to create your own virtual private network to better secure the internet connection of your PCs and mobile devices.
Happy browsing, and happy building!
Disclosure: We are a professional review site that receives compensation from the companies whose products we review.
We test each product thoroughly and give high marks to only the very best. We are independently owned and the opinions expressed here are our own.